Nightlife in Guam
Guam is very much known for its beaches and cultural places that tourists love to visit. With its perfect location on almost at the center of every hotspot in the world, vacationers would almost always pass by Guam to get the feel of what the small island has to offer.
However, for the party people and night persons out there, Guam also has a wide array of nightlife activities. The small island has a lot of bars and clubs to choose from; from luxurious dinner cruises to family-owned local bars.
Nightlife in Guam offers something to suit the tastes of travelers.
Hagatna, Agat and Barrigada feature at least one bar. In fact, almost every village in Guam does. Some of the most popular nightlife bars in Guam among locals are the family or locally owned bars that offer cheap bear throughout day and night. There are happy hour specials and plenty of pool as well. Locals in these bars are generally happy to welcome visitors.
Karaoke is also extremely popular in Guam and makes up a major part of Guam nightlife. There are also those that feature live musical performers on the weekends. In the city of Tumon, Marty's and the Fishbowl are two of the famous bars that offer great entertainment. When it comes to night clubs, the SandCastle in downtown Tumon is one of the those that is worth visiting as it has a Vegas-style showroom. It is also known for its wild parties and upbeat dance scene.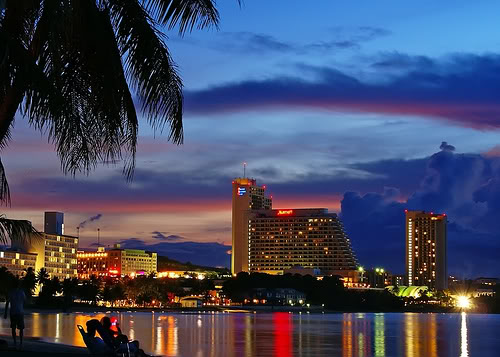 However, if those stated above are too busy for you, you can also spend a quiet evening in Guam. The island, particularly Tumon Bay or Apra Harbor, showcases dinner and sunset cruises. Guests can choose to stay within the harbor or travel beyond the reef. With dinner cruises comes dinner, drinks, dances and dessert all for one fee and of course, along with some beautiful scenes.
So, whether you plan to have fun under the sun or get a dose of an awesome nightlife (or maybe both), Guam is one of the best spots to visit as it will truly give you a worthwhile vacation.