Guam Celebrates its One-Millionth Tourist for the Year
Guam is known for its beautiful white beaches as well as other cultural places to visit. Some of the most-visited places in Guam are Ypao Beach and Tumon Beach, the former being the most favorite. The marine life in Tumon waters are also a sight to see as it's very abundant which is why some beaches in Tumon are known to be perfect diving spots.
Guam is also known for its famous cultural places such as the Latte Stone Park, which features one of Guam's historic ancient stone figures and the Padre Diego Luis de san Vitores Shrine which was built to honor a Jesuit missionary who established schools and churches on the island. Another historic place to visit in Guam is the Two Lovers Point in Tumon. It hangs in a cliff line where it shows a perfect view of the island. This place also comes with a legend of two forbidden lovers who plunged to death in the cliff so they could be together.
Also, tourists visit the small island for their local festivals that feature the pride of the Chamorro people. The festivals would last for days where there would be street parties, drinking and entertainment. The best part about this that everyone, tourists and locals alike, are invited to join the festivities.
With all the beauty and history behind this little island, it became popular vacation spot for tourists.
In fact, in 1997, the total visits of the country reached 1.38 million in just a year.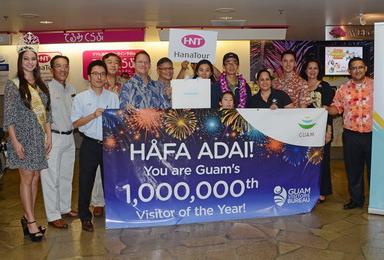 In October 16 this year, Guam celebrated its one-millionth visitor for the year.  The Guam Visitor Bureau continued to track the arrivals on a daily basis in order to monitor when the millionth visitor would come. The bureau worked with the airline and land operator in order to welcome the winner, which was a family from South Korea, in 1:30 in the morning. They also worked with the travel agent in Korea to identify which plane seat the winners would be on.
The family was given the royal treatment as they were given an upgraded hotel room (with no cost), limo service and police escort. They were also handed a roundtrip back to Guam and a certificate from the Bureau.
According to the bureau, there would be a chance for the current tourist visit, which is up by 14.5% since last year, to outnumber their biggest record on 1997. Also, with these freebies for the winners, they said that they attracted more visitors from Korea. The bureau estimates 1.305 million tourists at the end of this year and if this comes true, that would be Guam's best since 1997; because of this, Guam's economy is expected to stay stable this year.